One of the most famous quotes about New York City comes from author and humorist, E.B. White: "New York is the greatest city in the world, but even she has her limitations". This quote succinctly captures the sentiment that New York is a remarkable and awe-inspiring place, but even in its greatness, it is not without its flaws and challenges. One of the biggest challenges that many travelers like you face is finding a good place to stay in the capital of the world. Luckily there is HotelRoutePlanner.com, your ultimate companion for finding highway hotels near the vibrant city of New York. Whether you're embarking on a thrilling road trip or seeking a convenient stopover, our user-friendly website makes it a breeze to discover the ideal accommodation along your journey. Join us as we guide you through the process of using HotelRoutePlanner.com to effortlessly find highway hotels near New York, and also explore the myriad of attractions and activities that await you in the city that never sleeps.
The city that never sleeps: find the beste hotels near highway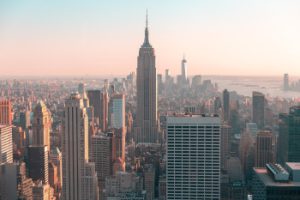 Picture the vibrant streets of New York City, basking in the glow of the sun, beckoning you to indulge in a much-needed getaway from the hustle and bustle of everyday life. Let yourself indulge in iconic landmarks. From the towering majesty of the Empire State Building to the iconic Statue of Liberty standing tall in the harbor. New York City is home to some of the world's most renowned landmarks. Feel the rush as you gaze upon the dazzling lights of Times Square, take in the breathtaking views from the Top of the Rock observation deck, or capture the perfect Instagram shot in front of the famous Charging Bull on Wall Street. Each landmark tells a story, and exploring them is like stepping into a larger-than-life movie set.
If landmarks aren't your thing, then there are loads of other attractions and activities that you can do. New York City is a melting pot of cultures, offering a rich tapestry of artistic and cultural experiences. Lose yourself in the masterpieces at the Metropolitan Museum of Art or the Guggenheim Museum, where creativity knows no bounds. 
Besides, New York City is a paradise for those seeking retail therapy. Whether you're strolling down Fifth Avenue, exploring the trendy boutiques in SoHo, or hunting for unique treasures at Chelsea Market, the city offers a shopping experience like no other. 
New York has everything, even beautiful outdoor spaces and hints of nature. Take a leisurely stroll through the enchanting paths of Central Park, escape the serenity of the High Line park, or enjoy a picnic in the picturesque Bryant Park. These urban oases provide a refreshing break from the city's fast pace, allowing you to soak in the beauty of nature amidst the urban jungle.
Why choose HotelRoutePlanner.com?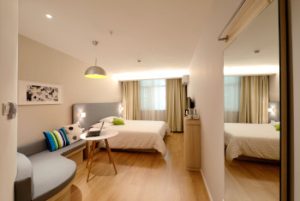 New York is definitely a must-visit city that you should certainly include in your roadtrip. As you are dreaming of a journey where every moment is filled with comfort and ease? Look no further than the revolutionary Hotel Route planner tool, designed to transform your trip into a seamless and unforgettable adventure. Whether you're embarking a cross-country expedition or planning a weekend getaway, our unique platform is here to enhance your travel experience and ensure that every step of the way is tailored to your preferences and needs. Simply follow these easy steps to embark on a journey that exceeds your expectations:
Step 1: Tell Us Your Journey Details:
Share with us the starting point and the final destination of your trip. Whether you're setting off from the bustling streets of New York City or from somewhere else in the USA, our tool is ready to cater to your specific itinerary.
Step 2: Customize Your Layovers:
Every traveler has unique preferences when it comes to breaks along the way. Inform us about the number of layovers you desire and how long you wish to drive between each stop. Our sophisticated algorithm will take this information into account, offering you a tailored selection of recommended layover stays that perfectly align with your journey. 
Step 3: Unveil Hotels Along Your Route:
Once you've provided the necessary details, brace yourself for an exciting display of results. Our Hotel Route Planner tool will present you with a comprehensive list of carefully curated hotels situated along your chosen route. From charming roadside inns to luxurious resorts, each option has been handpicked to ensure your comfort and satisfaction. Explore the amenities, read reviews from fellow travelers, and gain valuable insights into each accommodation option to make an informed decision. 
Step 4: Book with Confidence:
Making reservations through our Hotel Route Planner platform is a breeze. We prioritize your convenience and safety, ensuring a seamless booking process. Once you've selected your ideal hotel, proceed with confidence to secure your reservation directly through our platform. 
Step 5: Elevate Your Travel Experience:
With our Hotel Route Planner, your journey becomes more than just a means of getting from point A to point B. It transforms into a delightful exploration, where the road itself becomes an integral part of your adventure. By seamlessly integrating layovers and strategically selecting hotels along your route, we ensure that every mile is filled with comfort, relaxation, and exciting discoveries. Whether you're seeking a cozy bed and breakfast nestled in the countryside, a modern and stylish urban retreat, or a family-friendly hotel with a range of amenities, our Hotel Route Planner tool is your ultimate travel companion. Say goodbye to the uncertainties of finding suitable accommodations on the go, and embrace the peace of mind that comes with pre-planning and securing your stays in advance.